Liquid fertilizer application unit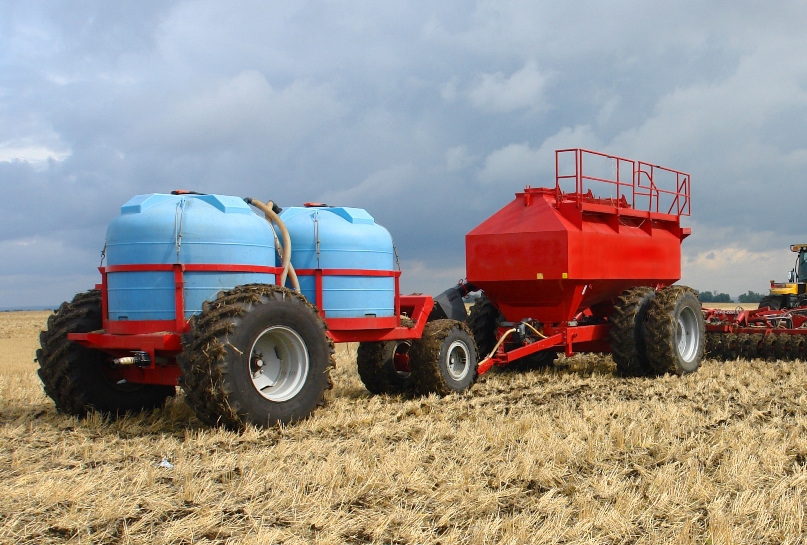 Liquid fertilizer application unit "AVZhU-2АS" has been specifically designed to work with hoe-opener drills "ATD" and cultivators "ASC".
The machine is designed to transport slightly aggressive liquid (aqueous solution of ammonia) and deliver it to the working tools of drills and cultivators. For example: to apply aqueous solution of liquid ammonia during seeding operation, pre-seeding soil preparation or during fall soil tillage.

This machine allows to perform 3 field operations during one pass of the seeder, i.e.: seed placement, application of dry starter fertilizer and application of liquid fertilizer under the seedbed.
AVZhU-2AS consists of the following main units:
2 tanks by 4.5 m3
Piston pump
Wheel drive
Front platform with a towbar and a hitch
Front and rear wheels with hubs
Piping system (hoses, fittings, adapters, manifolds) with gate valves
Changeable nozzles
All-welded frame is made of shaped pipes. There are two locations for tanks placement and fixing them by ropes.
Due to the hinge joint that allows swinging in the vertical pane and turning in horizontal pane the frame is attached to the front platform.
The rear part of the frame is attached to removable cross-beam of the rear axle.

The front platform is equipped with a hitch to attach the machine to the pulling tractor.
A possibility to turn around combined with adjustable tow-bar makes the machine very maneuverable.

The tanks for working solution are made of polyethylene; they can be used even for aggressive substances.
The tanks are equipped with a threaded flange neck and a cap with a breathing valve. Each tank has a ruler to measure the amount of liquid inside.
| | |
| --- | --- |
| Specifications | AVZhU 2АS |
| Full weight, kg | 13 900 |
| Empty weight, kg | 4 900 |
| Tank volume, liters | 2*4500 |
| Length, m | 8,1 |
| Width, m | 4,5 |
| Height, m | 3,09 |
| Maximum working speed, km/h | 15 |
| Maximum speed when empty, km/h | 25 |
| Application rate for aqua ammonia, l/ha | up to 600 |
| Discharge pressure, not exceeding kPa (kg/cm2) | 180 - 250 (1,8 - 2,5) |
| Front tires | 1300*530-533 |
| Rear tires | 30,5R32 |
| Required pulling power, kN (kilogram-force) | 30 (3 000) |